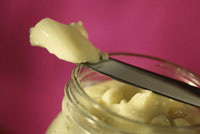 You don't need to spend a fortune on salon treatments, or even pay the high prices at the store to get soft, silky, shiny hair. Depending on the condition of your hair, you may need use this conditioner anywhere from once a week to once a month. The natural ingredients and proteins are easily absorbed by the hair and it deeply penetrates every hair shaft while moisturizes the scalp.
Ingredients:
Beat 2 eggs with a fork.
Add 1/2 cup mayonnaise and mix well.
{googleAds}<script type="text/javascript"><!--
google_ad_client = "ca-pub-2970895246189115";
/* naturalsmallrectangle */
google_ad_slot = "4107174196";
google_ad_width = 180;
google_ad_height = 150;
//-->
</script>
<script type="text/javascript"
src="http://pagead2.googlesyndication.com/pagead/show_ads.js">
</script>{/googleAds}
Shampoo hair; towel dry.
Apply egg/mayo mixture to hair; comb through, making sure ends are saturated.
Cover with a shower cap or plastic wrap.
Leave on 1 hour.
Rinse well; wash hair with mild or diluted shampoo.